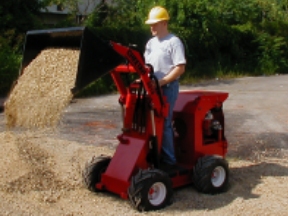 2006 CHEETAH - NEW AND IMPROVED
- New Main valve for improved traction, steering and boom/bucket control
- Specialized springs for softer feel
- Standard hour meter to keep track of usage and maintenance schedules
With a universal front Mounting Plate and 5gpm & 12gpm Hydraulic accessory circuits, the Cheetah can be used with a number of attachments! Here is the Cheetah is pictured with just a few to give you some ideas of its versatility

Available are Standard Buckets, Tooth Buckets, Rock Buckets, Mulch Buckets, 4-in-1 Buckets, Grapple Buckets, Grapple Forks, Pallet Forks, Augers, Hydraulic Hammers (Breakers), Trenchers, Brooms, Dozer Blades, Levelers, Scarifiers, Tillers, Sod Rollers, Tree Forks, and Many More!
Discover the Visibility, Stability, Power and Balance
of the World Class Cheetah Skid Steer Loader!